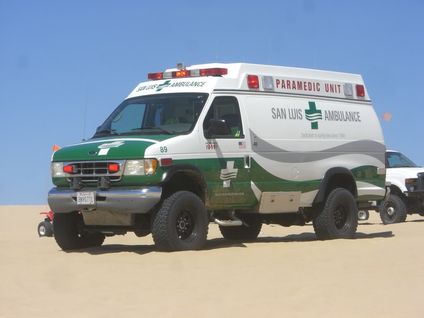 Although there's a lot to do when your ship's at sea, new and wondrous  adventures await you ashore. Have the urge to remain on the ship and eat yourself into a coma while everyone else is wasting time in port? Snap out of it, Skipper! You're not (just) some fat and lazy American on vacation; you're an intrepid explorer in search of danger and excitement—so slather on that sunblock, suck up that gut and whip out that American Express card, because an intrepid adventurer such as yourself is going to want to splurge on some shore excursions for you and your family so you can actually go out and experience—not just visit—the ports. Unless, of course, your idea of a good time is wandering aimlessly around a port area that is the mother of tourist traps screaming, "No! No! No! Yes! No! Yes! Hell no! Hell yes!" to locals trying to sell you fake jewelry, cheap T-shirts, imitation leather goods, marijuana, wood carvings, prostitutes, wool blankets in summertime and Mexican wrestling masks.
So in order to help you maximize your fun in the sun, here are five of the most popular shore excursions for you to choose from:
Excursion # 1: swimming with the dolphins. Dolphin encounters are some of the most popular excursions offered by any cruise line because they allow cruise aficionados such as yourself to treat your family to an experience of a lifetime. In fact, millions of Americans are sailing to the Caribbean this year for the warm sunshine, enchanting evening breezes, sapphire waters, and the chance to swim with cute and cuddly dolphins that weigh 1,100 pounds and can crush a small child like a warm M & M. But despite what the critics might say, swim-with-the-dolphin programs are a great opportunity for dolphins, the second-most intelligent creatures in the world to bond with tourists, the least intelligent creatures in the world.
Swim-with-the-dolphin excursions have become increasingly popular in the Caribbean in the past ten years or so and the dolphins dig it, too. A former dolphin trainer, who spoke candidly with me on the condition that I twist his words around, told me that dolphins love being in captivity where they can perform the same boring tricks over and over again with overweight tourists and their snot-nosed offspring holding onto their fins as they bang their sensitive snouts on the walls of their claustrophobic pens instead of swimming free in deep blue ocean, where the only tourists they'll meet are drunk cruisers who fall overboard.
"Dolphins are beautiful and amazing creatures in their natural habitat," the trainer told me. "But stick them in a cage, and they become sad, frustrated and aggressive, making it that much easier for them to relate to humans."
Excursion # 2: snorkeling and scuba diving. Snorkeling is a particularly popular activity among junior cruisers because kids are less apt to be unpleasantly surprised at how nut-tuckingly cold the water in the Caribbean can be, less apt to become disappointed or angry when unusually strong currents make it difficult to observe underwater life, and less apt to get upset when their eyes are flooded with stinging salt water because their parents were too tipsy to properly adjust their masks for them.
The primary appeal of snorkeling for parents is that it doesn't require the expense, equipment and training required for scuba diving. But if honest-to-goodness scuba diving is more your thing, then you'll have to get certified first if you want to dive on your own. If you're not certified, then you'll have to either dive with a guide or get hired as an uncertified guide for other non-certified tourists.
Shore excursion # 3: zip-lining.
Are you overweight, out of shape and afraid of heights? Then this is the excursion for you. If you don't have fun, then your bored guides certainly will because they can definitely use a good laugh.
Shore excursion # 4: parasailing.
Each year, an estimated three to five million people participate in parasailing. This popular activity is one of the most exciting things you can do in port because it's largely unregulated with serious accidents frequently caused by faulty equipment. There are: no federal regulations or guidelines that establish specific training or certification for parasailing operators;  no requirement for inspection of the parasailing equipment; and no requirement to shut down operations during nasty weather conditions. For these reasons alone, serious thrill seekers are sure to get their money's worth.
If you're still not sold on the idea of being suspended 500 above the ocean's surface, where something as simple as a weak towline, strong winds, or a worn harness can cause a tragic accident, then perhaps the fact that there no are rules or laws preventing you from buying a half-priced bottle of tequila at the duty free shop and drinking it during your flight might seal the deal.
Shore excursion # 5: Jet Skis and ATVs. Can't decide between renting a Jet Ski or a four-wheeler, then get a package deal so you can do both in one day. That way, you can break your neck and  your back. (And then rent a Rascal scooter back on the ship.)
So don't just lounge around Lido Deck, nursing your strawberry daiquiri; book a shore excursion today! There'll be plenty of time for lounging when you're in traction in the ICU.