Jeff Shaw - Clubs / Ships / Corporate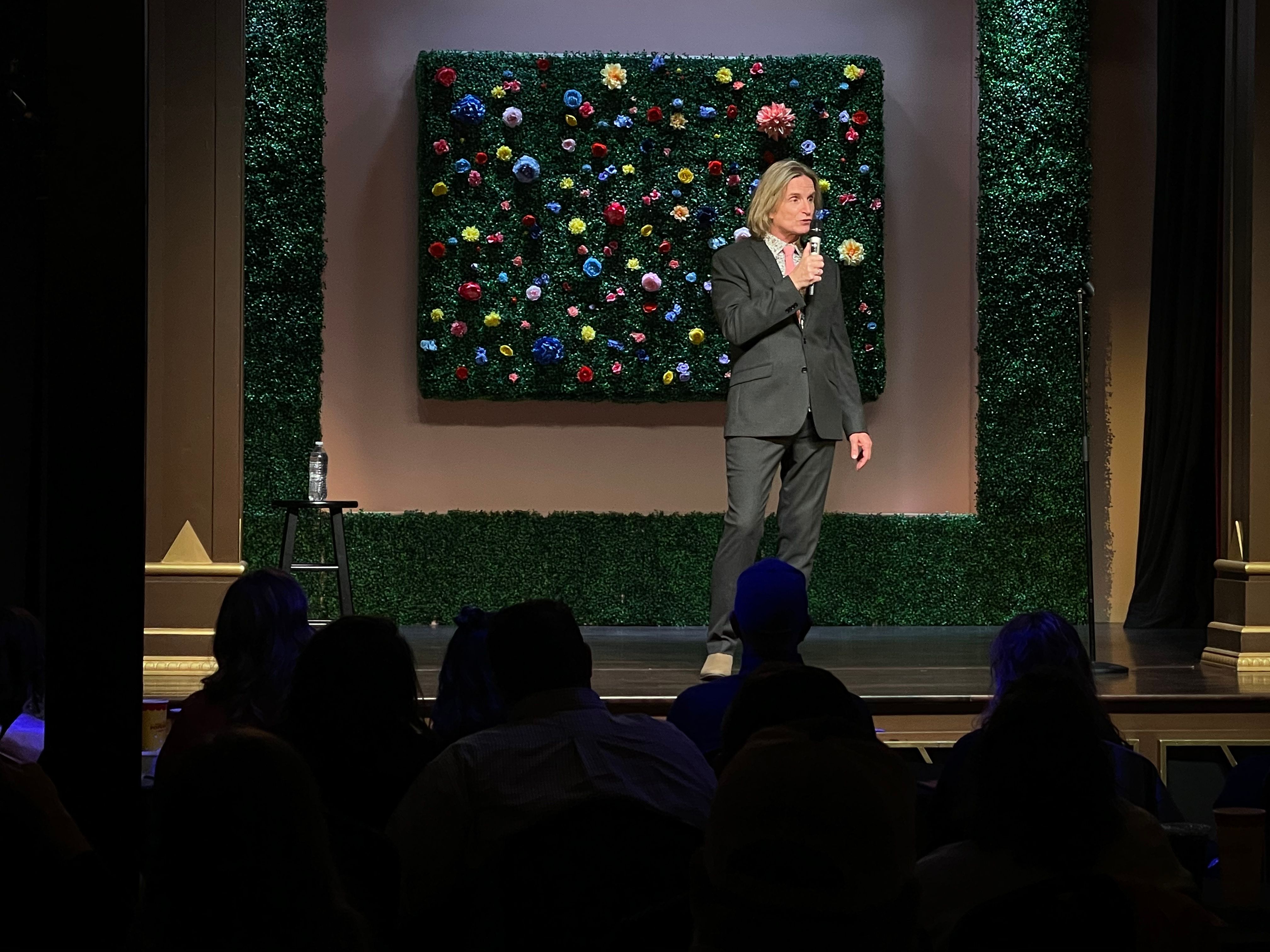 Jeff Shaw is not a manly man. Jeff Shaw is not a girly man. Jeff Shaw is a manly girly man. 
Depending on what kind of hair day he's having, Jeff can be the girliest man at Home Depot or the manliest man at Bed, Bath and Beyond.
Jeff is also an accomplished stand-up comedian whose first Dry Bar Comedy special Manly Girly Man has garnered over 10 million views on Facebook and is currently streaming on Peacock and Comedy Dynamics. Jeff's second Dry Bar Comedy special will be released in the fall.
Jeff is a former linguist for the Army, a former staff writer for American Greetings, a former comedy club manager for Carnival Cruise Line, a former humor columnist for Cleveland's SCENE Magazine and Buffalo's Artvoice, and the author of The Fun Dude's Guide to Cruising: A Humorous Handbook for Taking Your First Cruise and Living to Complain About It, available on Amazon as both a Kindle e-book and paperback.
This former opening act for Michael Bublé's signature style of stand-up can best be described as "clean and clever comedy with a kick." 
In fact, Jeff's reputation for destroying a room without having to put a dollar in the swear jar has made him an in-demand corporate and cruise-ship comedian. An event coordinator at Amazon headquarters in Seattle wrote, "Jeff Shaw was hilarious, professional, kind, and easy to work with. I would recommend him to anyone looking for an overall amazing entertainment experience."
In March of 2020, Jeff beat out thousands of contenders to win a spot for Season 15 of America's Got Talent. Although Jeff was crushed to learn that only snippets of his standing-ovation appearance in Pasadena would go to air due to the pandemic's impact on AGT's production schedule, he was thrilled to see his On Tour Records release Jeff with Two F's reach #1 on iTunes and Amazon less than a year later.
Comedian Jeff Shaw: clean and clever comedy with a kick!
 
COMEDY CLUBS (SEE TOURING HISTORY)
Hilarities 4th Street Comedy Theater, Cleveland
Kellar's Comedy & Magic Club, Erie
The Cleveland Improv
The Miami Improv
Howie Mandel's Comedy Club, Atlantic City
Brad Garrett's Comedy Club, Las Vegas
JR's, Magic Mountain
Zanies, Nashville
The Comedy Catch, Chattanooga
The Star Dome, Birmingham
Charlie Goodnights, Raleigh
Mark Ridley's Comedy Castle, Detroit
One Night Stan's, Detroit
Big Tommy's, Detroit
Gutty's Clean Comedy Club, Indianapolis
The Ft. Wayne Comedy Club, Ft. Wayne
The Comedy Caravan, Louisville, KY
Ann Arbor Comedy Showcase
The Comedy Cabana, Myrtle Beach
The Holly Hotel, Holly, MI
Catch a Rising Star, Princeton
The Laugh Factory, Memphis
Crackers, Indianapolis
Sidesplitters, Tampa
McCurdy's, Sarasota
Snappers, Clearwater
Laffs Comedy Caffe, Tucson
JP's, Phoenix
Comedywood, Toronto
The Loony Bin Chain
The Funny Bone Chain
The Comedy Zone Chain
The Comedy House Chain
The Punchline Chain (Southeast)
The Bonkerz chain
Funny Business Agency
Summit Comedy Agency
Comedy Productions (Ken Muller) Agency
TV APPEARANCES
"Night Shift with Kevin Ferguson"
"Showtime's Comedy Club Network"
"A & E's Comedy on the Road"
Comedy Central's "Stand-up Stand-up"
"Comedy at Club 54" 
COMEDY ALBUMS
Jeffio - 1995
Funnier than You (Pittsburgh Funny Bone Compilation) - 2002
Living the Dream - 2013
Ships & Giggles - 2014
Walk the Plank! - 2015
You Can Call Me His Fun Dude-ness- 2018 
BOOK